---
EXHIBITIONS
---
Ceredigion Museum: Quarantine Quilts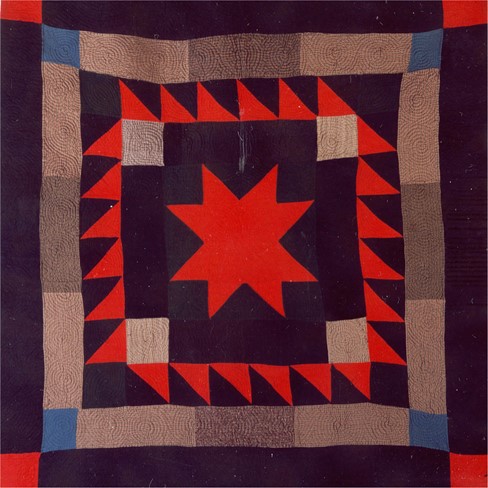 Ceredigion Museum has an exceptional collection of quilts, bursting with social history and stories about the past, which we will be exhibiting once we can welcome visitors back to the museum.

We want to add two new quilts, one real and one digital, to the collection, to help us commemorate our shared experiences of the COVID-19 pandemic and to capture the experiences of our community during this transformative moment in time. We also want to explore the values we feel we may want to leave in the past and those we want to take into our new future. There are many ways you can help; from sending us your voices, videos or photographs to getting creative with poetry, drawings, soundscapes, songs or even fabric and thread.
COVID-19 is affecting the lives of the global population in unprecedented ways. Ceredigion saw its first cases of the virus appear in March 2020, swiftly followed by a huge shift in our social and working lives; organisations began to close down and restrictions were made on people's movement across the county.

Ceredigion is no stranger to isolation and quarantine, we have faced several epidemics, including smallpox in 1738 and 1819, cholera in 1840, the 1918 flu pandemic, and typhoid in 1946.
What patch would you place on the quarantine quilt? Something that illustrates how our physical spaces have been transformed – the quieter streets, the resurgence of nature; the effects on key and home workers; life without school, your online homework? Please share your experiences, the things that have made you laugh and cry; would it be a protest patch against the initially proposed policy of herd immunity, your favourite P.E. session with Joe Wicks, the clapping for carers, face timing relations and friends, the random acts of kindness or the repeated Stay Safe, Stay Home messages?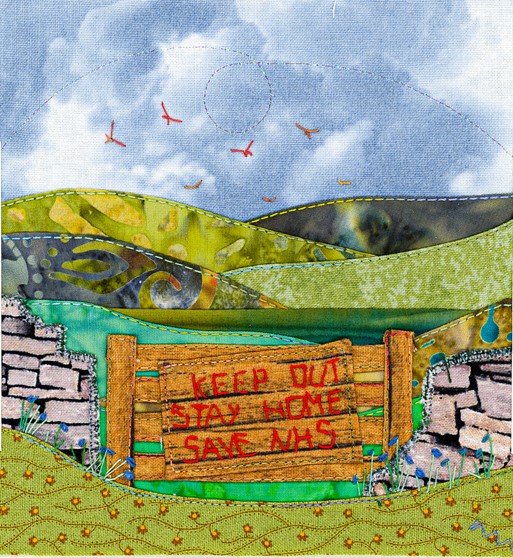 Please e-mail or use a file sharing app to send your contribution
to carrie.canham@ceredigion.gov.uk. For contributions to the physical quilt, please send us a patch of 14cm x 14cm (including a 1cm seam allowance) to:

Ceredigion Museum
c/o Ceredigion County Council
Canolfan Rheidol
Rhodfa Padarn
Llanbadarn Fawr
Aberystwyth
Ceredigion
SY23 3UE

Whether you send us something physical or digital, please remember to include an explanation of why you have sent your contribution, what it means to you and the story it tells. The Quarantine Quilts will form part of Ceredigion Museum's exhibition 'Quilts: Human Threads'. This exhibition explores these objects as gateways to fascinating stories and social histories, and considers how remarkable they are for both their exquisite craftsmanship and their emotional resonance.
As the social and working lives of many have moved to digital, initially, the museum is keen to focus on the digital 'quilt'. We would be very grateful for your voices, videos, photos and sound pieces, to reflect a broad range of experiences across Ceredigion. From those working on the front line to those working at home, to those embracing new skills, from parents turned home-school teachers to the older generations adopting online get-togethers and young people technologically partying.
---
HOME
Ceredigion Museum has a rich and varied collection of objects and images that reflect the great changes in home life through the generations, from methods of washing and ironing to television sets. Today, home life is at the forefront of our shared experience, as we are asked to stay at home for the good of our communities, unless we are going out to help our communities survive the COVID-19 pandemic. Ceredigion Museum is working on two
projects to capture this moment in time, so that our collection tells this story for future generations, and we would be very grateful for your contributions.
Home is Where the Heart is
Ceredigion Museum wants to explore the idea of 'home' with you. Home can simply be a roof over our heads or a place of refuge. Or, it could be the place where someone feels that they belong; a place to build memories, a place where we can be ourselves. These are the questions we want to explore with you:
Could you tell us what 'home' means to you? Is it the place where you are now or is home somewhere far away?
Is home a place, a house or a feeling?
Can you share with us your memories of your home, or a place where you lived and became the place where you
belong?
What has made you feel as though you belong?
What does 'home' mean to those who don't have one, or whose homes are not secure?
Here are some ideas for the things you might do to share that with us.
You could write a statement, a memory, a story or a poem
You could paint or draw the place.
You could ring us on 01970 633 088 and leave us a message on our answer machine, the museum is closed at the moment, but we can pick up our messages.
You could create a map of how to reach that place.
We'd love to receive your work either online or offline. You could post your thoughts, maps and drawings to the museum or you can send it via social media using the hashtag #Ceredigionathome onto our Facebook page
www.facebook.com/amgueddfaceredigionmuseum, Instagram amgueddfa_ceredigion_museum or twitter
@Ceredigionmus.
Go Home Polish
http://www.michaliwanowski.com/go-home-polish
As part of our exploration of the idea of 'home' we are going to host an exhibition called 'Go Home Polish' by Cardiff based photographer Michal Iwanowski. Polish born Iwanowski asked himself "Where and what is home?" after he saw the words "Go home Polish" scrawled on a wall in his home town Cardiff. What did this question mean to him? Should he really be going or was he already home? In April 2018 Michal set off on foot to find his answer.
'Go home Polish' documents one man's journey between two places and the stories he discovered of homes lived, loved and sometimes lost.'