---
SHEEP
---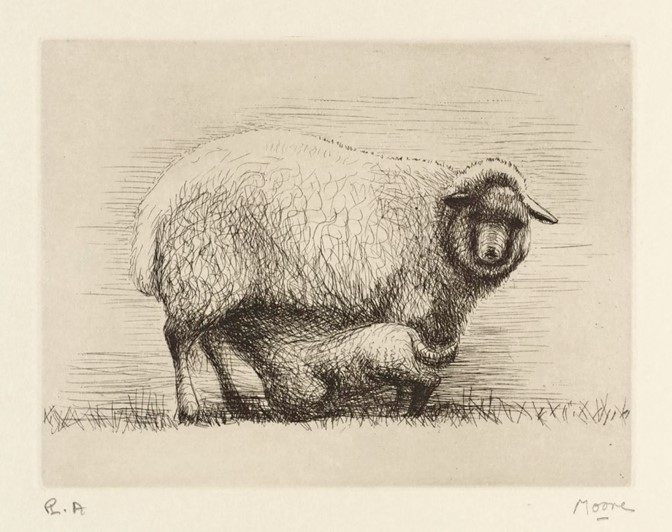 6 April - 29 June 2019
Between 6 April and 29 June, Ceredigion Museum will display a group of works on loan from Tate for the first time. The pictures, including three Henry Moore drawings, will form part of the museum's upcoming exhibition Sheep, which will look at the history, heritage and culture of sheep farming communities and their wider relationship with the land and landscape in Wales.
All of the works from Tate feature depictions of sheep, which alongside the Henry Moore drawings include: a Joseph Beuys drawing and a screen-print on paper 'Sheep B' by the Israeli artist Menashe Kadishman. Bringing these to the museum will be a real highlight for the public and offers an exciting opportunity to see Welsh artists exhibit their work alongside internationally significant works of art as well as Ceredigion's own collection. 
To make these loans possible, funding has been provided by the Weston Loan Programme with Art Fund; created by the Garfield Weston Foundation and Art Fund, the Weston Loan Programme is the first ever UK-wide funding scheme to enable smaller and local authority museums to borrow works of art and artefacts from national collections. Further funding has been provided by Arts Council of Wales, The Ferryman Project: Sharing Works of Art which is supported by National Lottery players through the National Lottery Heritage Fund, the John Ellerman Foundation and Art Fund. 
A cross-disciplinary symposium 'Future Landscapes', on 9 -10 May, will accompany the exhibition to further the discussions and dialogues inspired by the work featured in the exhibition.  
Contributing artists include Miranda Whall who is working on a series of pieces relating to landscape; the first, called 'Crossed Paths' looks at the story of the upland mountains of Wales told from the perspective of a sheep. New work in a variety of media including installation, film and sculpture will be on display by artists Short and Forward, Christine Mills, Morag Colqhuon, Carwyn Evans and photographer Marian Delyth. 
Alongside the exhibition, artist/filmmaker Ffion Jones will be engaging with sheep farmers to make a new piece in collaboration with farming communities with inspiration from the agricultural collection at Ceredigion Museum. The final work will be shown as part of the exhibition. 
Alice Briggs, Assistant Curator at Ceredigion Museum said, 'The funding for Sheep from the Weston Loan Programme with Art Fund and others will have a lasting legacy beyond just the exhibition. Its support of the necessary upgrades and accompanying programmes will enable the museum to borrow other important artefacts and treasures to display in the future – we already developing more plans to borrow artefacts from the British Museum and National Museum of Wales in 2020; making the culture and heritage of the region more accessible to the people of Ceredigion." 
Sophia Mason, Trustee of the Garfield Weston Foundation, said, 'We are so delighted to start the second year of our Weston Loan Programme with an exhibition in Wales. It's incredible to see how much this programme is empowering museums like Ceredigion as well as ensuring our national treasures can be seen by audiences in the context of their own area and local heritage." 
Stephen Deuchar, Director of Art Fund, said, "The Weston Loan Programme with Art Fund is about encouraging museums to share their collections with each other and bringing new benefit and opportunity to their visitors. We're proud to be working with the Garfield Weston Foundation to realise this important national programme."