---
EXHIBITIONS
---
'Human Threads':
An exhibition of fine quilts at Ceredigion Museum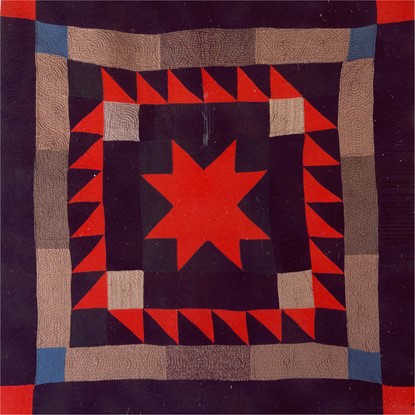 Ceredigion Museum boasts an exceptional collection of quilts that are rich with social history. The quilts have inspired our 'Human Threads' exhibition, which is now open to the public. The finest quilts from the collection have been mounted in the auditorium of the beautifully preserved Edwardian theatre that houses the Museum, and it's an impressive sight.
But there's more. In May 2020, we began to gather elements from the community to stitch together our own quilts. We have created two – one real and one digital - to commemorate Ceredigion's experience of the Covid-19 pandemic, which we can exhibit both in the Museum and in a virtual space online. As well as the real patches, people sent us digital patches in the form of poems, photographs, drawings, and songs, to give voice to people who might not otherwise have joined in. Aberystwyth-based filmmaker, Amy Daniel, supported people to record their responses to the pandemic using numerous digital approaches, from Voice Memos on a smartphone, to drawing on a tablet.
The exhibition runs from 12th August to 24th December, and has been generously supported by Artfund and the Friends of Ceredigion Museum. Both the exhibition and the Museum open to the public on August 12th, and will initially open from Thursday to Saturday each week, from 11am until 4pm. Please book your visit in advance at www.eventbrite.co.uk/e/mynediad-am-ddim-free-entry-tickets-166153765385, and see our home page for information about our guidelines for access.