---
WHAT'S ON
---
Exhibition and Events at Ceredigion Museum
Along with the permanent displays the museum has a lively programme of temporary exhibitions and events.
Exhibitions are free; there is a charge for some events.
Ticket Information 01970 633088
Current Exhibition 
Ceredigion Arts Society 
Inspired by History - Exploring the Prehistoric, Celtic and Roman Treasures of Ceredigion
19 January – 23 March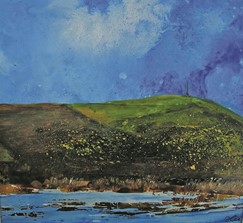 ---
Yoga Class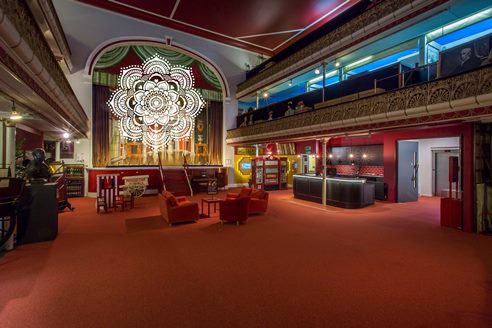 THURSDAYS 5.15pm - 6.15pm
Come and rediscover your inner peace in the surrounds of our beautiful old building. We're following the worldwide trend of yoga in museums, and starting a weekly yoga class in the Coliseum.

Please bring a mat if you have one, a bottle of water and a blanket. Suitable for all abilities.

£5
Workshop
03/05/2018 - on going
Folk and Roots
Aber Folk Club
Gwerin Aber Folk Clwb invite all those who want to sing, play or listen to an evening of live music. For more information visit www.aberystwythfolkclub.co.uk
16 January
20 February
6 & 20 March
3 & 17 April
Portland Street entrance open 7pm
Free (donations welcome)
Music
16/01/2019 - on going
Ceredigion Art Society - Inspired by History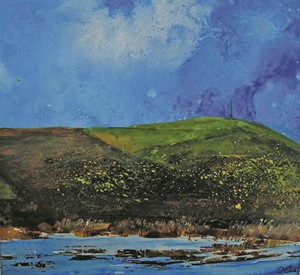 Exploring the Prehistoric, Celtic and Roman Treasures of Ceredigion
An exhibition of new work by Ceredigion Arts Society inspired by the past – with work drawn from Ceredigion's rich history from the stone-age to Roman occupation. The exhibition will include artworks inspired by the museum collection in various media.
10am - 5pm
Exhibition opening 19th January, 2pm.
Free (donations welcome)
Exhibition
19/01/2019 - 23/02/2019
Chamber Recital
Showcasing the music department's best talent, an evening with Penglais School's A Level music students.
Doors open 7pm
FREE (donations welcome)
Love Welsh Poetry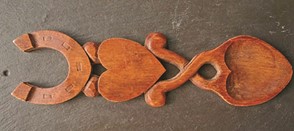 Rekindle your love for Welsh romance through our poetry trail.
10am – 5pm
Free (donations welcome)
Exhibition
25/01/2019 - 14/02/2019
An Extraordinary Female Affection - the life and love of the Ladies of Llangollen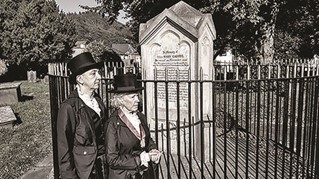 It is 250 years since the Honourable Sarah Ponsonby and Lady Eleanor Butler met in Ireland. Ten years later they caused a stir by running away together and settling at Plas Newydd, Llangollen in North Wales. Join us to celebrate LGBTQ History Month with this fascinating tale of life and love, from Living Histories Cymru. Local author Mike Parker will open the evening with a reading from his new book On the Red Hill, a reflection on queer life in rural Wales.     
Doors open 6.30pm
£6/ £5
Film and Theatre
01/02/2019
WE WANT DISCO!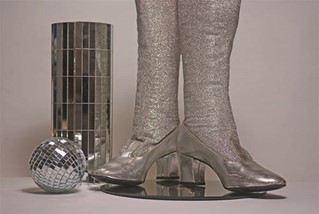 Aberystwyth Disco Committee bring you the first WE WANT DISCO! Pull on your disco shoes and join the fabulous Bronglais Hospital radio star Lady P and friends for a night of dancing.
2 February and 6 April
Doors open 7.30pm
Earlybird £6 / Door £8
Music
02/02/2019 - on going
The Importance of Being Earnest
Oscar Wilde's sublime comedy of manners The Importance of Being Earnest features mistaken identity, multiple christenings, a flirtation between a rector and a governess, and a large and capacious handbag. Its vivacious wit, memorable characters and enthralling plot still entrance audiences today. This production by The Nomadic Players is directed by Leora Wadler & Oliver Turner.
Doors open 7pm
Earlybird £5 / Door £6.50
Film and Theatre
07/02/2019 - 09/02/2019
HAKA Jazz Night – Valentine Jazz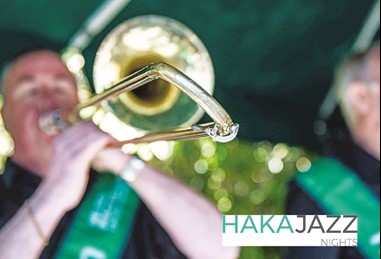 Love jazz?! Local events company Haka Entertainment bring to you the third in their series of jazz nights. Renowned jazz musicians from Aberystwyth and beyond will be coming together specifically for this very special event. With a glass of fizz on arrival this is a Valentine's occasion to remember.
Doors open 7pm
£10 (including a glass of prosecco)
Wedding Fair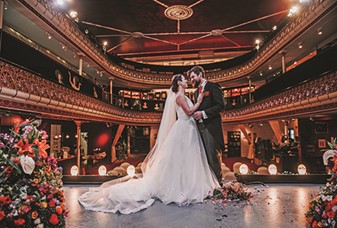 Celebrating the launch of Ceredigion Museum as a licenced wedding venue the museum will be hosting a spectacular wedding fair organised by Calon Events.
11am – 3pm
Free
Patagonia (2010)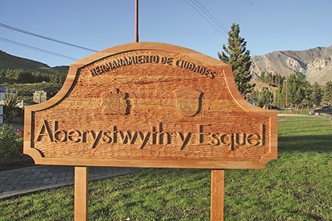 Celebrating the 10th anniversary of the signing of the Aber-Esquel town twinning agreement, The Aberystwyth and Esquel People in Partnership Association and Ceredigion Museum will screen the British-Argentine drama film Patagonia starring Welsh actors Matthew Rhys and Nia Roberts.
Doors open 7pm
Free (donations welcome)
15
Film and Theatre
27/02/2019
Llwybr Llaethog – Parti Pen-blwydd 34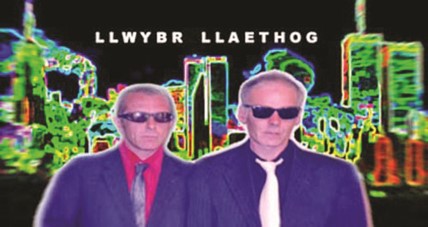 Seminal anti-establishment North Walian production outfit Llwybr Llaethog have been creating strange dub sounds using an all manner of technology since 1985. These iconic inventors of Welsh-language hip-hop will be joined by bilingual beat-boxer and live looping artist Mr Phormula for a night out as diverse as the Welsh landscape.
Doors open 7.30pm
Earlybird £10 / Door £12
Women Over Fifty Film Festival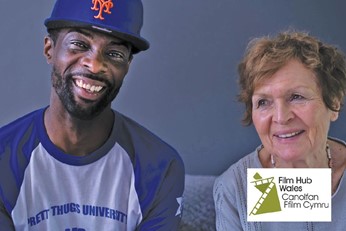 Women Over Fifty Film Festival (WOFFF) champions the work of older women on screen and behind the camera. Every WOFFF film has a woman over 50 at its centre on screen or behind the lens as the writer, producer or director. We invite everyone to celebrate International Women's Day in Wales with an evening programme of 10 short films that promise to amuse, astound and agitate. Plus, Nuala O'Sullivan, founder and director of WOFFF, will be in conversation with local filmmakers.
Doors open 7pm
£6 / £5
Film and Theatre
08/03/2019
Listen to the Voice of Fire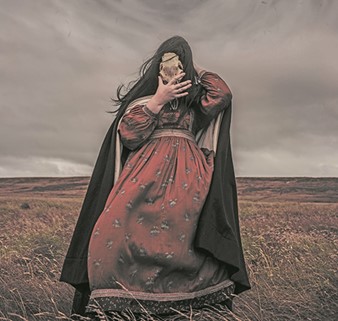 Eclectic – Electronic - Experimental, a platform for sonic art in Aberystwyth. Over two evenings Listen to the Voice of Fire will bring us exciting and wondrous performances from the experimental music scene.
Friday 15 – Sharron Kraus, Laura Netz, Bell Lungs and Itdreamedtome
Saturday 16 - Kitchen Cynics, Ashtray Navigations and Hawthonn
15 and 16 March
Doors open 8pm
Each night - Earlybird £10 / Door £12
Music
15/03/2019 - 16/03/2019
Kathryn Roberts and Sean Lakeman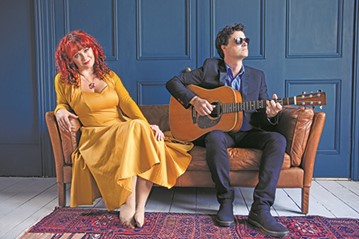 Mixing traditional song arrangements with (increasingly) their self-penned material, Dartmoor's captivating and award-winning duo reel across folk, rock, country and blues. From the bitter to the sweet, the wry to the sad, the political to the passive they take you on an eclectic emotional see-saw of a journey.
Doors open 7.30pm
£15
Treat for Mum – Posh Prosecco Afternoon Tea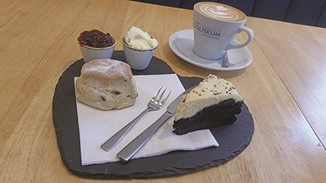 Treat the special lady in your life this Mother's Day with a glass of bubbles and a delicious afternoon tea date with you! Pop in to the Coliseum Coffee House for the full menu of scrumptious treats. Vouchers available for the perfect gift.
12 – 4pm
Up to £12 / person (booking essential)
SHEEP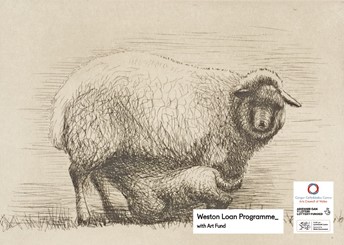 Sheep is a project designed to create a dialogue around the upland landscape of Mid Wales. The exhibition will explore its history, heritage and culture as a sheep farming community, and in particular the ecology and future uses of the land in relation to current discussions about land management and the future of farming in Wales.
6 April – 29 June
10am – 5pm
Exhibition opens 6 April, 2pm
Free (donations welcome)
Exhibition
06/04/2019 - 06/04/2019 - on going
Showtime Singers - Patience
This light opera, by Gilbert and Sullivan pokes fun at the Aesthetic Movement of the 1880 and the eccentric affectations of barely-disguised Victorian celebrities, including Oscar Wilde and his followers.  Pretentious poets, swooning maidens, hearty milkmaids and posturing soldiers galore, all become targets of Gilbert and Sullivan's razor-sharp wit.  It also boasts probably Gilbert's sharpest lyrics and one of Sullivan's most scintillating scores.
11 - 13 April
Doors open 7.30pm plus Sunday matinée 14 April, doors open 2.30pm
£10/£8
Film and Theatre
11/04/2019 - on going
Woolly Workshop for families
Get creative this Easter in our woolly workshop for families.
18 April – 2 - 4pm
23 April – 11am – 1pm
Free (donations welcome)
Workshop
18/04/2019 - on going
Needle felt workshop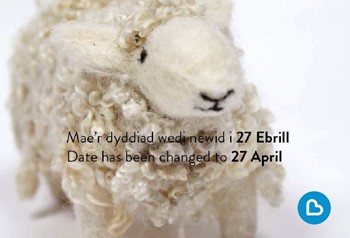 Date has been changed to 27 April
Learn how to make a beautiful needle felt sheep using Welsh wool with artist Ruth Packham.
Age 14+
12.30 – 4.30pm
£22 (limited places, booking essential)