---
AMGUEDDFA CEREDIGION MUSEUM
---
CEREDIGION MUSEUM IS OPEN!
For the foreseeable future, we are retaining our Covid-19 safety measures. We have put in place a booking system to limit the numbers of visitors at any one time and, once inside the Museum, visitors will be required to sanitise their hands, social distance, and wear masks (If you are feeling unwell with cold-like symptoms please consider visiting us another day.) We will also be cleaning our toilets regularly. You can visit us alone or in a family group or 'bubble' (max 6 people), and use of our lift will be reserved for one person or 'bubble' at a time, with the exception of when a user requires support.
The museum will initially be open from Thursday to Saturday each week, from 11am until 4pm. The website will have full details of the exhibition and, people will be able to book their visit at:
www.eventbrite.co.uk/e/mynediad-am-ddim-free-entry-tickets-166153765385
We look forward to seeing you soon.
---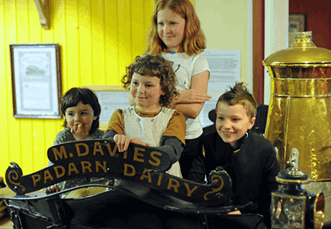 Encouraging Curiosity 
Welcome to Ceredigion museum, housed in a beautifully preserved Edwardian theatre. We are situated in the heart of Aberystwyth, near the seafront.
The museum is home to both permanent and temporary displays that explore Ceredigion's heritage, culture and art. The museum is open to everyone; young, old and everyone in between.
We look forward to welcoming you and encouraging the curious.