---
Weddings
---

Celebrate your historic day at Ceredigion Museum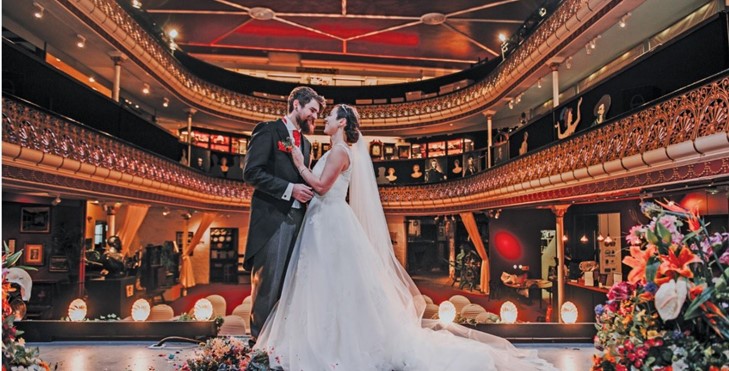 With two stunning rooms to hold your ceremony in, a fully licensed bar and a choice of wedding breakfast options Ceredigion Museum is the perfect venue for your special day.
The Coliseum Auditorium
First open in 1905 as the Coliseum Theatre the auditorium has hosted more than 5000 events including Edwardian music hall, plays, early films, political meetings and concerts. After converting to a cinema in 1932, 3800 film programmes were watched by Ceredigion residents. Today the Auditorium's 3 floors house Ceredigion Museum's collection of art and objects from the county's cultural heritage.
Seating up to 100 guests, take your marriage vows centre stage of this iconic venue surrounded by friends, family and the rich history of Ceredigion.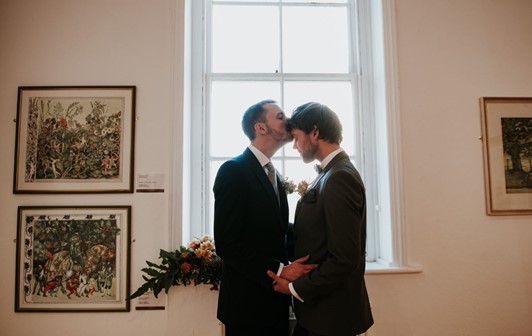 The Gallery
Our beautiful temporary exhibition space is the perfect place for an intimate wedding with your closest family and friends. Seating up to 50 people this light, airy space overlooks the dazzling Cardigan Bay and Aberystwyth's North Beach. The backdrop for your wedding vows could be a touring art exhibition or a display of artefacts from Ceredigion Museum's collection and beyond.
We would like to work with you to make your day extra special so we have created several options to base your bespoke wedding package around.
Package 1 - Gives you exclusive use of the venue for 3 hours.
Package 2 - Gives you exclusive use of the venue for 6 hours.
*You will have exclusive use of the museum/gallery/auditorium but the museum shop and The Coliseum Coffee House will remain open during business hours
Each and every wedding is different so please contact the Museum to discuss which package might suit you best and how to bring your big day to life.
To discuss your wedding plans and ideas please contact,
Sarah Morton - sarah.morton@ceredigion.gov.uk
Carrie Canham - carrie.canham@ceredigion.gov.uk
Photo Credit - Jess Rose     Men's wear - Clive, Aberystwyth     Bridal - La Môr Bridal, Llanrhystud     Flowers - Dwrgi Flowers and Tymhorau